Back to top
NCTSN Trauma-Informed Organizational Assessment
What is Trauma-Informed Care and why does it matter? 
Trauma-informed care occurs when all parties involved recognize and respond to the impact of traumatic stress on those who have contact with an organization, including children, caregivers, and service providers. Trauma-informed organizations infuse and sustain trauma awareness, knowledge, and skills into their organizational cultures, practices, and policies. Collaborating with all those who are involved with the child and using the best available science will maximize physical and psychological safety, facilitate the recovery of the child and family, and promote and support staff well-being. Organizations that serve children and families have an opportunity and an obligation to identify those experiencing trauma and help them receive appropriate care as early as possible, to prevent potential negative outcomes and promote children's ability to thrive. Trauma-informed care also requires that organizations support their staff by preventing and addressing the impact of secondary trauma.
What is the NCTSN Trauma-Informed Organizational Assessment?
The NCTSN Trauma-Informed Organizational Assessment (TIOA) is a tool created by the National Center for Child Traumatic Stress (NCCTS) to help organizations assess their current practices in the context of serving children and families who have experienced trauma. Results from the assessment can drive organizational change that facilitates the recovery of the child and family, supports their ability to thrive, and maximizes physical and psychological safety. Results from the NCTSN TIOA can help guide organizations to identify, prioritize, implement, and sustain trauma-informed practices. This tool is an important part of an organizational transformation process to create trauma-informed organizations.
The NCTSN TIOA is derived from the NCTSN definition of a Trauma-Informed Child and Family Service System, which is based on collaborative work from a diverse group of NCTSN members with trauma and systems-change expertise. Their work identified nine areas, or domains, that are key to creating a trauma-informed program or organization, and these are the nine domains of the NCTSN TIOA.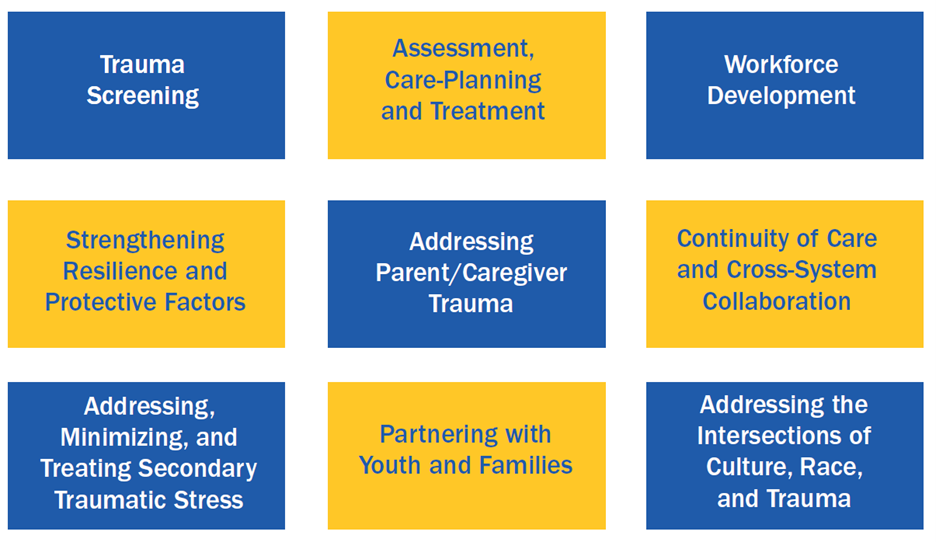 The items in the NCTSN TIOA have been developed and refined by combining current research with NCTSN expertise, including the perspectives of families, youth, direct service providers, administrators, trainers, researchers, and intervention developers who work across child welfare, juvenile justice, education, healthcare, and mental health systems.
How can the NCTSN Trauma-Informed Organizational Assessment be used?
The NCTSN TIOA is intended for any organization that serves children and families, regardless of sector, and was designed to:
Measure where an organization is (related to being trauma-informed) at a given point in time
Create a common language around trauma-informed care within an organization and with staff across all roles, as well as within the organization's broader community of child- and family-serving agencies
Bring to light important areas for an organization to address, helping to create a roadmap for organizational change related to trauma-informed care
Identify specific NCTSN tools, resources, and strategies to help an organization better serve children and families who have experienced trauma, as well as support staff working with children and families
Assess progress and improvement over time
To learn more
For more information, download the NCTSN Trauma-Informed Organizational Assessment (TIOA) Informational Packet. This resource outlines how the NCTSN TIOA is different from other trauma-related organizational assessment tools, describes the process of using the NCTSN TIOA, and includes sample items. 
For questions or more information on the NCTSN TIOA, please email TIOA@NCTSN.org.