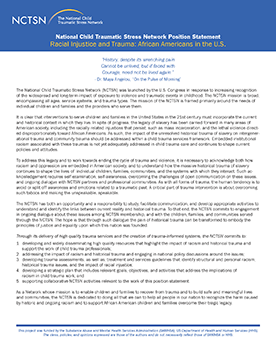 Resource Description
Affirms the importance of addressing the impact of historical trauma, including slavery, in the lives of African Americans in the U.S. Current-day racial injustice in law enforcement, prisons, and other institutions are part of the history of oppression and racism that can affect the trauma experience, treatment, and recovery of African Americans.
Trauma-informed practice and culturally responsive care are core values of the NCTSN. These compel us to acknowledge historical events, biases, and population demographics in understanding health disparities and disproportionality. As such, historical trauma is recognized and understood as a significant part of the trauma history for a child, a family, and a culture.
The NCTSN developed this position statement, "Racial Injustice and Trauma: African Americans in the U.S.," in 2016 as a call to action, and it continues to inspire and guide our work. Specifically, the statement calls for: 1) Increase knowledge about the impact of race-based traumatic stress that affects many African American children, their families, and the communities in which they live; 2) In collaboration with experts in historical trauma related to African American history, develop and disseminate resources that child trauma professionals can use to identify, assess, and address historical trauma and racism in the context of high quality, trauma-informed, culturally responsive care; and 3) Become a national leader in raising awareness about historical trauma related to African Americans, the impact of current-day racial injustice, and the implication of such history and experiences on trauma-informed health and mental health care.